Don't let the weather defeat your fleet!
Over the holidays, I was traveling down the trucker belt of America to visit family and this exact topic came up in my head. Every time I see a knowledge-based article on winter fleet vehicle tips or safe driving during winter weather, I always skim through them and just look at the bullets. I started asking myself why I don't actually read the entirety of the article as I typically love to go down the rabbit holes of knowledge. Then, boom, it hit me…….
I don't read them all the way through because I myself have seen the same tips more times than I can count. But there is one piece that I don't see often. I see the TIPS, but I don't see the TRICKS. 
When old man winter comes knocking on our door with frigid temperatures and harsh weather conditions, it can become extremely taxing on fleet vehicles that can be out on the roads for 10-12 hours per day. Performing routine maintenance will help drivers and fleet managers avoid emergency repairs and costly downtime during the coldest months of the year. Although here in NOVA, the first snow has fallen when just a few days ago, it was in the 70's, there are still several things you can do to prepare for your fleet and this will allow you to make a clear strategy for preparing for next winter. Boom
In a nutshell, we will be covering these 11 tips: 
Battery Tests

Windshield Wipers

Brakes

Tires

Fluids

Fuel

Light Check

HVAC Systems

Snow & Ice Removal

Driver Safety

Emergency In-Cab Kits
Let's drive on…

Battery Test
TIP: Colder temperatures can turn vehicle fluids to what I can only describe as the consistency of molasses. Once this happens, your vehicle's engine requires more power to start-up and tends to resist being charged. Often times, this process increases the battery's sulfation level and taxes the battery's life cycle, which in turn, reduces the overall life of the battery.  A common tip you hear is to avoid cold soaks. When cold soaks occur, it means that the engine fluids and the steel of the engine block were allowed to sit for more than a day in below freezing temperatures which impacts starting and charging systems. When batteries begin to fail, they start to show signals such as hard/slow starting which may mean needing a jump start.
TRICK: With fleet vehicles under heavy use no matter what time of year, battery maintenance is paramount for those starting a diesel engine in extremely cold weather conditions. I highly recommend considering early replacement of aging batteries for fleet vehicles (3+ years) before the cold really sets in. For vehicles within your fleet that have newer batteries, you'll want to maintain them throughout the colder temperatures by keeping them corrosion free with a post and terminal cleaner. When you park a diesel vehicle for extended periods of time, having a block heater or some kind of self-contained engine coolant heater will make starting the engine much easier. 

Windshield Wipers
TIP: More often than not, windshield wipers are the last on everyone's checklist for preparing for winter and it baffles me. Good visibility is essential when snow is flying and slush is being thrown on the windshield. 
TRICK: All good fleet managers and fleet maintenance service providers know that you should simply replace your fleet vehicles windshield wipers before winter comes. This is simple preventative maintenance that ensures safe and proper visibility for your drivers. If you are in an area of heavy snow or frequent storms, you should consider switching to heavy-duty blades, which can also help cut through some ice buildups.  When performing this preventative maintenance for your fleet vehicles, also ensure that your windshield washer fluid level is on point and be sure to have your drivers keep an ample supply inside the truck with them at all times. Also, it's never a bad idea to keep an extra set of wiper blades in the vehicle as well.

Brakes
TIP: Worn brakes are dangerous and contribute to so many accidents no matter what time of year. When road conditions are hazardous especially during snow and ice, stopping safely is more than a luxury; it is a necessity. Some signs that indicate you have worn brakes are that embarrassing squealing or grinding sound, longer stopping distance, or a pulsation felt in the brake pedal while braking. I highly recommend taking a more proactive approach vs. waiting for these indicators to tell you that you need to have your brakes checked and/or replaced. 
TRICK: Many fleet vehicles have air brakes. Air brakes are a different kind of beast in winter weather and have very unique needs. It is common for the brake shoes to freeze to the brake drums when vehicles equipped are parked in below freezing weather. Your fleet maintenance service provider and drivers should confirm that the brakes are releasing and that the wheels are turning freely. Your drivers should drain the moisture from air reservoirs to prevent air brake valves from freezing up, and, if they use methyl hydrate, they should use it sparingly. 

Tires
TIP: Here is the holy grail of winter vehicle maintenance. If your tires are bad, you won't be driving your vehicle safely and you shouldn't be driving your vehicle, period. Clearly, your tires are the primary contact between your vehicle and the road. Basic tire care is ensuring proper amount of tread, pressure, and making adjustments for winter weather. If your tires have low tread, they do not channel water/snow properly. If you have low tire pressure which is lower in the colder months, it can cause safety issues and also play a part in fuel mileage. 
TRICK: Have your drivers check their tires before they drive during their pre-trip inspections. Although this is common, I still must suggest ensuring that all tires have a valve cap to help combat moisture getting in the tire combining with rushing air when checking the pressure, and avoiding ice to form in the valve core which causes a slow pressure leak. As you know, when the tires are inflated improperly, tires can have reduced gripping action when your drivers need it the most so equipping your fleet vehicles with the appropriate gear for traction control is key. If the tire is 20% below the recommended pressure, it must be considered flat and removed/inspected for damage. Failure to do this may result in unwanted downtime, so take the time. 
Depending on your specific location, size of your vehicle, and expected precipitation levels based on the expectations of your business, you may require different tread intensities or even chains to keep your fleet moving through the snow safely. Winter tires make all the difference in slick conditions and on hyper cold roads. If you are using tire chains, be sure to remove them as soon as you no longer need them. Chains left on for extended periods will chip, pit, and chunk tires, as well as cause road damage.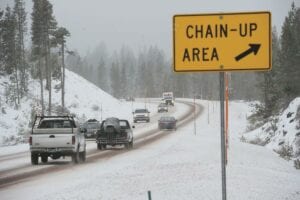 Fluids
TIP: When the temperatures get cold, driving can become more difficult with low vehicle fluids. All vehicle fluid levels should be kept at optimal levels to avoid unnecessary downtime and keep you safe during winter. 
TRICK: The saying goes, all oils are not created equal. For diesel engines, running the risk of putting the wrong oil in your fleet diesel vehicles during the winter can cause avoidable engine wear. For example, heavier oils might be too viscous to achieve effective lubrication at low temperatures so it is recommended to switch to a full-synthetic oil with a lower cold temperature viscosity for easier cold cranking and startup. Also, in addition to getting your regular oil changes at the recommended mileage, checking and topping off fluids such as a high-quality coolant (50 50 solution), power steering fluid, brake fluid, windshield washer fluid, and battery (if applicable) is  critical prior to and during cold periods.

Light Check
TIP: During your pre-trip inspection and any routine preventative maintenance appointment for your vehicles, your lights should always be checked. Most fleet repair services come with a Multi-Point Check to ensure your vehicle is running safely at all times and prevents problems with your vehicle from occurring. 
TRICK:  With an increasing amount of manufacturers utilizing LED lights, we need to keep in mind that they are not always warm enough to melt accumulating ice and snow, so fleet vehicle drivers may need to brush lights off periodically during their trips. If your fleet vehicles do not currently have LED headlamps, I highly recommend changing them out. LED headlamps offer distinct advantages over conventional (Halogen) designs, including better visibility (wider and more natural illumination) and drawing substantially less power than conventional lighting relieving strain on the battery and charging systems. Not to mention just an overall longer light life.

HVAC Systems
TIP: This one is fairly simple. It goes without saying that when temperatures drop, HVAC systems' heat and defrost functions are critical. 
TRICK: All drivers should check their HVAC as part of their daily inspections in addition to routine HVAC checks provided by their fleet maintenance service provider. Don't forget those cabin air filters, even in the winter.

Fuel
TIP: During the winter months, all drivers should never let their fuel levels drop below one half a tank of fuel. If water collects in the bottom of the tank, it can be drawn into the fuel line and freeze, preventing engine startup. In areas of extreme cold, adding fuel-line antifreeze will lessen the chances of this happening. 
TRICK: Fleet operators will need to base the fuel needs on their fleet vehicles destination. When traveling or living in colder temperatures, use a correctly blended fuel with a cloud point additive to prevent fuel filter waxing.  If temperatures are dropping below 20 degrees, I highly suggest adding a diesel anti-gel additive to your fuel tank. Untreated diesel fuel will begin to gel at 17.5 degrees and DEF will crystallize at 12 degrees. You will also want to drain the water separator and replace the water absorbing filters. Water in the fuel systems can damage fuel pumps and injectors.

Snow & Ice Removal
TIP: As we know, when the roads are covered in snow and ice, so are our vehicles. (Insert: Here's your sign comments) But this is very important to understand when traveling the roads. It is extremely important to completely clear your vehicles from snow and ice prior to driving. Not only can leaving snow and ice on your vehicle be hazardous to you, but it can also affect other drivers. 
TRICK: For fleet vehicles, it is at the utmost importance to clear your vehicles to include roofs and trailers, if equipped. Fleet managers should prepare for this when snow and ice is intended to accumulate. Sometimes, drivers are not permitted to climb on top of their rigs to remove snow without violating worker-safety precautions. I suggest using truck washes to loosen and remove the snow and ice. Another factor to keep in mind when maintaining your fleet vehicles is to avoid corrosion. Aside from traditional rock salt, many states are moving toward liquid deicers which are great for the roads, but can wreak havoc on equipment. Your fleet maintenance service providers and drivers will want to regularly inspect equipment for even minor indications of corrosion.

Driver Safety
TIPS: When the winter is bad, you need to practice safe driving. (Insert: here;s your sign comments) More often than not, truck drivers feel indestructible due to their rigs size and weight. Use the size and weight of your vehicle to your advantage by practicing caution and readiness for the vehicles around you. You are not indestructible and you can cause serious damage if you do not proceed with caution.
TRICKS: 
Daily inspections

Slow your trucks down

Give yourself enough space: braking, turning, parking, etc.

Remain smooth: avoid sudden braking, sudden acceleration, cornering, etc.

Pay attention to the tire spray: lots of water spray means the roads are wet, reduced spray means the water is starting to freeze.

Put on your lights, even in the daytime

When in doubt, just pull over.

Be prepared: Emergency Kit

Check Twice, Look Twice, and remember, you may be larger, but you can cause the most damage.

Emergency Kit
TIP: As I always say, it is better to be over-prepared than under-prepared. For winter weather, fleet drivers should over-prepare for the what-ifs as they do happen and they happen more often than you think.
TRICK: 
Flashlight with extra batteries

Extra Blankets, Clothes, and coat

Pre-packed food & water

Slip-resistant footwear

Shovel

First Aid Kit

Portable Fully Charged Phone Charger

Jumper Cables, jack and lug wrench

Hazard Cones
I hope you enjoyed my 11 tips with tricks on how to prepare your fleet vehicles for winter. So while the profits are still rolling in, and the business is booming, keep it moving always forward because being proactive is better than being reactive!!! " Boom
We are ready for you, old man winter. 
Check us out on Facebook, Twitter, Linkedin, and Instagram to stay up to date on industry trends and news! Stay tuned for my next blog of tips & tricks for consumer vehicles!
Written By: Paul Norton
Owner/President, C&P Fleet Services