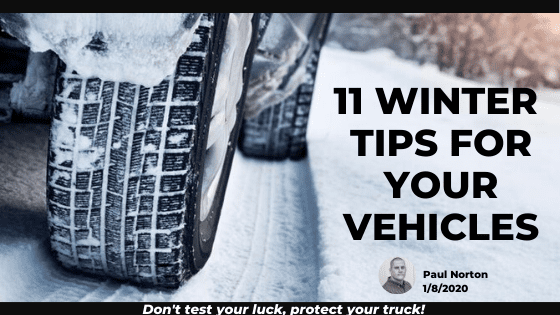 I'm sure by now you have all seen many articles and colorful imagery about how to prepare your vehicle for winter. Over the holidays, I was traveling down the trucker belt of America to visit family and this exact topic came up in my head. Everytime I see a knowledge-based article on winter vehicle tips or safe driving during winter weather, I always skim through them and just look at the bullets. I started asking myself why I don't actually read the entirety of the article as I typically love to go down the rabbit holes of knowledge. Then, boom,  it hit me…….
I don't read them all the way through because I myself have seen the same tips more times than I can count. But there is one piece that I don't see that often. I see the TIP, but I don't see the TRICKS. The phrase, "silly rabbit, tricks are for kids," should be banned from existence. What adult does not  crave and seek convenient tricks that don't require surfing google for hours on end to find an answer. We are an immediate gratification society and I don't know about you, but I am all about convenience. Life is hard enough, make things easily accessible when you can, am I right?
I can tell someone to check their tires, brakes, and fluids to prepare for winter all day. But what I need to remember is, I may not always be talking or typing to someone with as much knowledge on the topic. If you have no interest or knowledge in vehicle maintenance, when I tell you to check your fluids, your response will be, "okay, what am I checking for exactly."
So now that I have rambled on about how I need to better explain the HOW in addition to the WHAT, I wanted to share my top 11 tips for preparing your vehicles for winter and "tricks" on exactly how you do it based on vehicle. Boom
According to The Federal Highway Administration, over 70% of the US roads are in snowy regions and over 70% of the US population live in those snowy regions. With almost half a million car accidents each year caused by winter storms, wet road conditions, and general bad weather, we can significantly reduce these numbers by doing our part; maintaining our vehicles, preparing for the weather ahead, and by practicing safe driving. 
In a nutshell, we will be covering these 11 tips:
Battery Tests

Windshield Wipers

Brakes

Tires

Fluids

Fuel

Light Check

HVAC Systems

Snow & Ice Removal

Driver Tips

Emergency In-Cab Kits

Battery Test
TIP: Colder temperatures turn vehicle fluids to what I can only describe as the consistency of molasses. Once this happens, your vehicle's engine requires more power to start-up and tends to resist being charged. Often times, this process increases the battery's sulfation level and taxes the battery's life cycle, which in turn, reduces the overall life of the battery.  A common tip you hear is to avoid cold soaks. When cold soaks occur, it means that the engine fluids and the steel of the engine block were allowed to sit for more than a day in below freezing temperatures which impacts starting and charging systems. When batteries start to fail, they start sending signals such as rough starting or needing the occasional jump start. 
TRICK:  Before temperatures get colder, be sure to ask your technician to test your battery's state of charge (SOC) to determine its remaining life cycle.  Most vehicle batteries tend to fail 3-5 years after purchase so I highly recommend tracking the age of your battery moving forward if you don't already. During cold weather, do not allow your vehicle to sit for more than a day without going out to start the engine and allowing it to warm-up.

Windshield Wipers
TIP: More often than not, windshield wipers are the last on everyone's checklist for preparing for winter and it baffles me. Good visibility is essential when snow is flying and slush is being thrown on the windshield. 
TRICK: The key here is simple, just replace them before winter even if you don't feel you need to. It's a low expense, yet such a high return for you at the end of the day. Maintaining those wipers through the winter is also important. Don't know how to change them…no problem..I got you covered:

Brakes
TIP: Worn brakes are the worst and contribute to so many accidents no matter what time of year. When road conditions are hazardous especially during snow and ice, stopping safely is more than a luxury; it is a necessity. Some signs that indicate you have worn brakes are that embarrassing squealing or grinding sound, longer stopping distance, or a vibrating brake pedal. I highly recommend taking a more proactive approach vs. waiting for these indicators that you need to have your brakes checked and/or replaced. 
TRICK: Ask a technician to perform a visual check on the condition of your brakes and adjustment. This type of service can easily be performed during a tire rotation or state safety inspection. In addition to preparing for winter weather and brake checks, I want to offer some safe driving best practices. If you have anti lock brakes (ABS), you can apply steady pressure to the brake pedal. If you don't, pump your brakes to prevent your wheels from locking up.  Do not use cruise control on slick pavement. 

Tires
TIP: Here is the holy grail of winter vehicle maintenance. If your tires are bad, you won't be driving your vehicle safely and you shouldn't be driving your vehicle, period. Your tires are the primary contact between your vehicle and the road. (Insert: Here's your sign comments) Basic tire care is ensuring proper amount of tread, pressure, and making adjustments for winter weather. If your tires have low tread, they do not channel water/snow properly. If you have low tire pressure which is lower in the colder months, it can cause safety issues and also play a part in gas mileage. 
TRICK: Perform a visual inspection of the tires or ask your technician to check your tires. You and/or your technician are looking for inadequate tread, cupping, uneven wear, and punctures. If you are checking your tires yourself, break out the common penny trick! If you are unfamiliar, simply place a penny into the tread of the tire, then check to see how much of good ole Abe's head is visible above the tread. If Lincoln's head is completely visible, the tire tread is low and he is shaking his bell at you to replace your tires. Since tires can wear unevenly, place the penny in several places around the tire.
Next, check the tire pressure to ensure your standard optimal pressure is correct.

Fluids
TIP: When the temperatures get cold, driving can become more difficult with low vehicle fluids. All vehicle fluid levels should be kept at optimal levels to avoid unnecessary breakdowns and keep you safe during winter. 
TRICK: The first fluid you should check & maintain throughout the winter months is the antifreeze level to avoid your engine overheating. Next, be sure to check your oil level so the engine is properly lubricated can run longer. As I mentioned previously, check your windshield washer fluid for optimal visibility. If you are not certain how to check these fluid levels, I highly recommend bringing your vehicle in to a technician.

Light Check
TIP: During your safety inspections or any routine preventative maintenance appointment for your vehicles, your lights should more than likely always be checked. Most automotive shops or fleet repair services come with a Multi-Point Inspection to ensure your vehicle is running safely at all times and prevents problems with your vehicle from occurring. 
TRICK: When your removing snow and/or ice from your vehicle before hitting the roads, you should ensure that all snow/ice has been removed from your lights to ensure proper visibility for you and for other drivers. 

HVAC Systems
TIP: This one is fairly simple. It goes without saying that when temperatures drop, HVAC systems' heat and defrost functions are critical. 
TRICK: A good rule of thumb is to have your HVAC system checked during your routine preventative maintenance appointment. If you are not due for one prior to winter months, I do suggest having this done prior to winter along with the other checks I have mentioned.

Fuel
TIP: During the winter months, all drivers should never let their fuel levels drop below one half a tank of gas. If water collects in the bottom of the tank, it can be drawn into the fuel line and freeze, preventing engine startup. In areas of extreme cold, adding gas-line antifreeze will lessen the chances of this happening. 
TRICK: Always keep you gas tank at half a tank. Start your engines at least once a day.Be sure to add any fuel additives needed. 

Snow & Ice Removal
TIP: As we know, when the roads are covered in snow and ice, so are our vehicles. (Insert: Here's your sign comments) But this is very important to understand when running the roads. It is extremely important to completely clear your vehicles from snow and ice prior to driving. Not only can leaving snow and ice on your vehicle be hazardous to you, but it can also affect other drivers. 
TRICK: Give yourself plenty of time to clear your vehicle. Clearly, we as a society do not live on island time and we are always in a hurry. Prepare for the snow and ice by allowing yourself enough time to clear the snow and ice from your vehicle. You can easily start this process by starting your engine and following your manufacturer optimal engine warm up times. Allow your vehicle's engine to warm up prior to starting the defrost. In addition to removing snow from all windows, lights, and top of your vehicle, be sure to remove the snow/ice build up around your tires and flaps. If you don't do this, it can cause damage to other vehicles on the road, it will continue to accumulate while your driving and form large sprays. Don't be the one to cause a snowball fight while driving, it's not cool, we all have places to be. When the snow and ice melt down, be sure to clean off your vehicles from the rock salt or liquid de-icer chemicals to avoid any type of corrosion buildup.

Safe Driving Tips
TIP: When the winter is bad, you need to practice safe driving regardless if you have a 4WD, AWD, or 2WD. Just because you can get through the snow quickly in a 4WD/AWD, doesn't mean you should and certainly doesn't always mean you can. Pay attention to your surroundings and understand that you are not the only person on the road. Give yourself plenty of time to get where you need to go. 
TRICKS: 
Drive slowly

Accelerate and decelerate slowly

Increase your following distance

Know your brakes 

Don't stop if you can avoid it

Don't power-up hills or stop when you are going up a hill

Remain visible with lights on

Be prepared: Emergency Kit

Emergency Kit
TIP: As I always say, it is better to be over-prepared than under-prepared. It is much like packing for a trip with your first baby. I'm sure we have all packed the entire house for the what-ifs of a new baby, when in reality, we only end up using maybe 10% of what we packed. For winter weather, both consumer vehicle drivers and fleet drivers should over-prepare because in this case, these what-ifs do happen and they happen more often than you think.
TRICK: 
Flashlight with extra batteries

Extra Blankets, Clothes, and Coats

Pre-packed food

Slip-resistant footwear

Shovel

First Aid Kit

Jumper Cables

Hazard Cones

Portable Fully Charged Phone Charger
I hope you enjoyed my 11 tips with tricks on how to prepare your vehicles for winter. So while the kids play in the snow, and the aroma of hot chocolate fills the air, keep it moving always forward because being proactive is better than being reactive. Boom
We are ready for you, old man winter. See, who said tricks are for kids!
Check us out on Facebook, Twitter, Linkedin, and Instagram to stay up to date on industry trends and news! 
Written By: Paul Norton
Owner/President, C&P Fleet Services